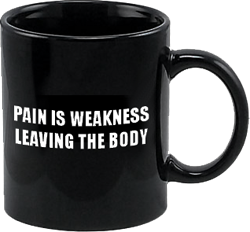 PAIN IS WEAKNESS LEAVING THE BODY
This mug serves as a perfect reminder after a tough workout.
11oz. Ceramic Mug
Smooth molded ceramic composite
Glossy color exterior
Easy comfort grip c-curved handle
High quality, durable, 11 oz. black ceramic mug with white text. Enjoy coffee, espresso, hot chocolate, or tea. Ideal for serving mugs of soup on a cold day.
Price: $6.90